Decorating your home and giving it a style is an amazing activity. If you are planning to decorate or renovate your bedroom and looking for best bedroom ideas, then this post will be great for you.
We will be sharing 8 awesome bedroom ideas which you can copy or modify to suit your liking.
( Disclosure: This post may contain affiliate links. We may receive commission if you purchase something from our links, without any extra charges from you. As an Amazon Associate I earn from qualifying purchases. Please read the disclaimer for more information)
There are so many decorating styles, and it depends on you which one you want to choose for styling and decorating your bedroom.
You can choose to give a rustic look by adding earthy and raw décor items. Or you can choose a bohemian or chic style.
People have different preferences and that's why we are sharing twelve different bedroom ideas which will help you in choosing the best one for you.
These are so warm and cozy that you would love to spend your entire time here.
So without waiting anymore, let's get started.  
Best Bedroom Ideas
1. Bedroom Ideas: Earthy Plant Decor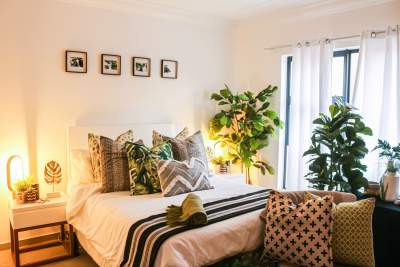 The classic white wall looks relaxing and refreshing. The little frames add depth and little texture to the wall without being too overpowering element in the bedroom.
White curtains set the mood right and make the room look more spacious.
The little lamps on each side of the bed are perfect if you want little lighting to read a book before bedtime.
Earthy shades of the cushions add to the atmosphere and add a happy tone to this stunning bedroom.
2. Best Bedroom Ideas: Blush Decor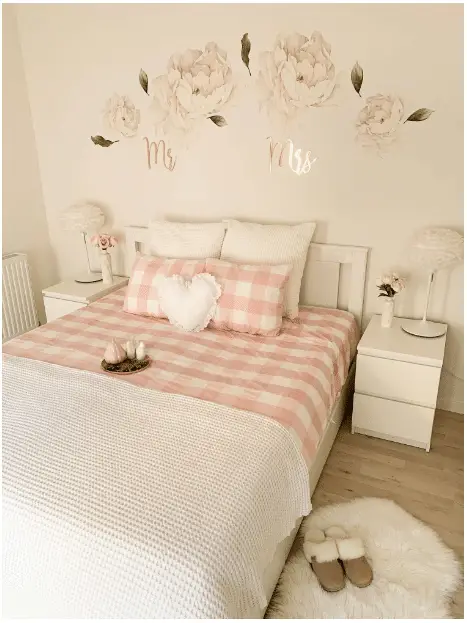 This bedroom idea is perfect for couples. The off white shaded walls soft and give a romantic touch to the room.
You can add stickers or paint some beautiful roses or flowers to add a perfect vibe.
We could not stop ourselves from adoring the "Mr & Mrs" stuck on the wall. Isn't it a cute way to decorate your lovely bedroom?
Adding a little white drawer to the bedside is great to add more items in your bedroom.
Spread out a white ruffled mat just below the bed so that your feet could feel softness first thing in the morning, and set your mood for the day as soon as you wake up.
Add a pink checkered bed-sheet to add subtle color to the room which looks classy.
3. Bedroom Ideas: Add Beautiful Cushions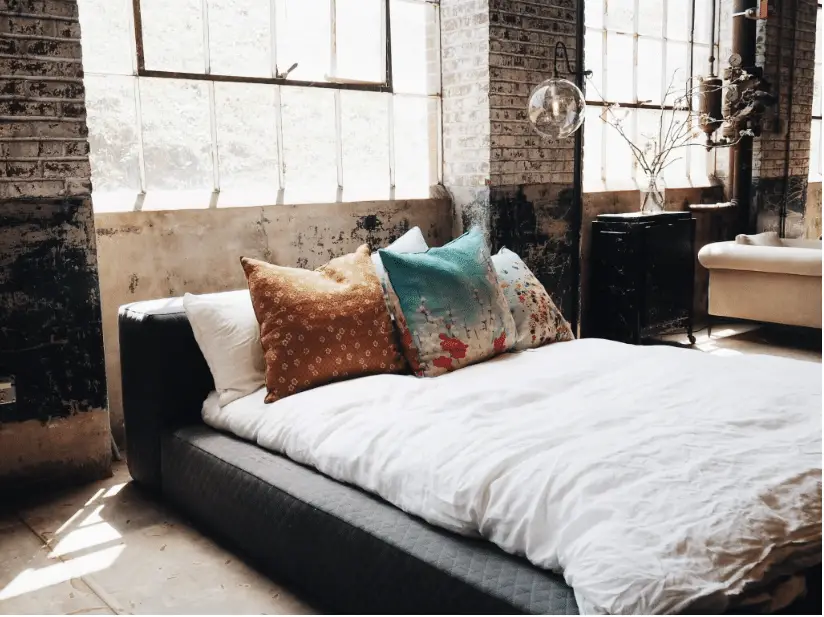 This one is surely one of the comfiest bedrooms you'll find. The mattress looks extremely soft and relaxing.
Colored cushions add some color and tone to this simplistic bedroom and we love this idea of adding some nice color to the room.
Small vase with huge branches is a different style of adding plants to the room. Generally full, green lush plants are preferred but this one is unique and really classy.
The bubble shaped light lamp is an amazing home décor item and it's adding more style to this comfy bedroom.
The curtains are not used by a solid color curtain would look absolutely stunning in this beautiful bedroom.
4. Best Bedroom Ideas: Soothing Plant Decor
Super comfy and ideal for those who love plants in their bedroom. We couldn't help but gaze at the glove placed on a trunk in front of the bed.
The carpet makes the room look more spacious. Using lots of plants in the bedroom is a great way to keep it refreshing and it even makes your mood happy.
If you have space near the window, go ahead and keep a classy chair there. You can use this corner for reading books during a rainy day and gaze at the beautiful weather through the window.
5. Bedroom Ideas: Simple Minimalist Decor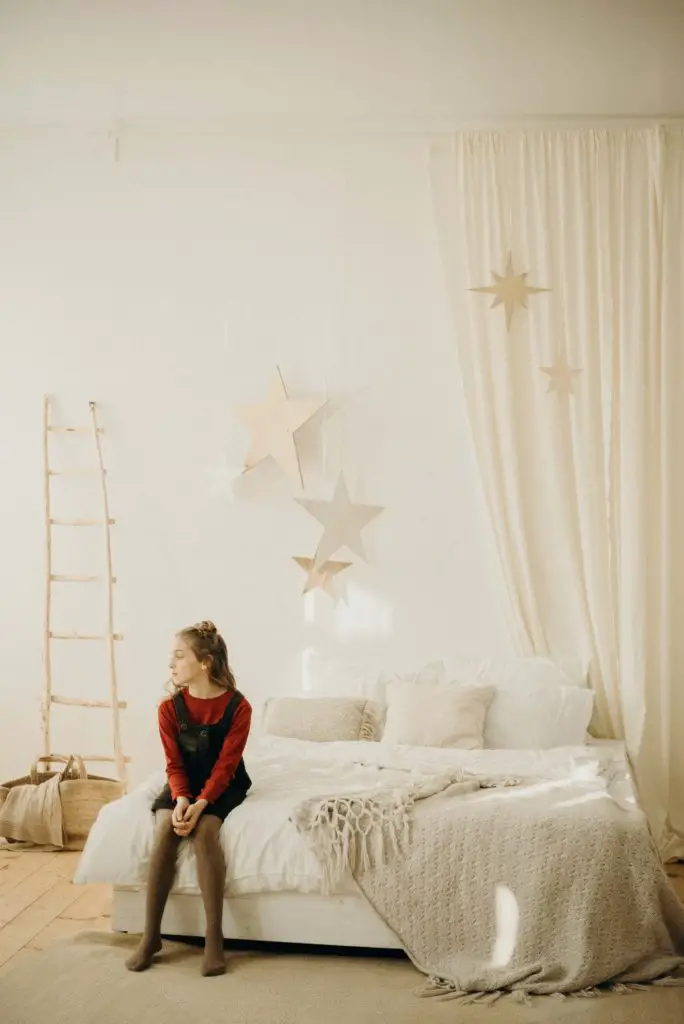 White walls, off white curtains with handmade stars: a perfect trio to make your bedroom pretty and comfy.
You can add a long lamp beside the bed to add more dimension. Or add a little drawer and add a vase on top with flowers to make the room look filled up.
This is a very simple bedroom idea but it's definitely something that can be a great choice for those who like to keep it simple yet classy.
6. Bedroom Ideas: Warm Decor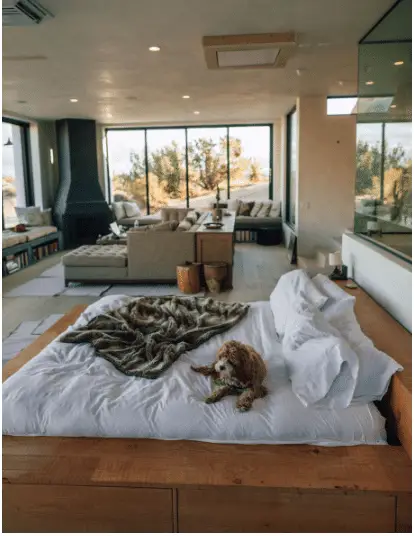 If you are having less space, then this type of bedroom is perfect. It's a great way to utilize the space in a studio apartment by using a wooden bed which has ample of storage space too.
Even if you have a huge house, you can create a bedroom like this where you have a couch and a fireplace as well.
The white sheets add to the relaxing tone of this comfortable bedding. It's so comfortable that you pet will love it too!
This kind of bedroom idea is perfect for those quick afternoon naps or rainy day naps.
7. Bedroom Ideas: Pretty Green Decor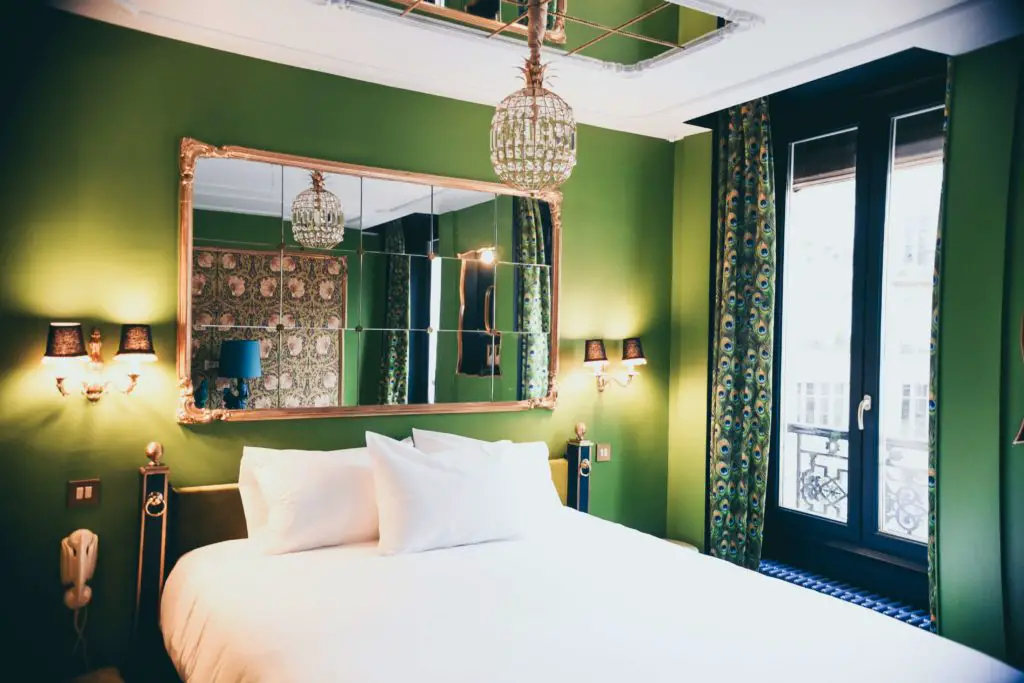 If you gave a small bedroom even then it can look stylish and relaxing, just like this amazing green bedroom.
The lamps in the side add a traditional touch to the look and the chandelier adds more beauty to it.
The huge mirror placed on the wall behind the bed is the highlight of this bedroom. The peacock curtains look stunning against the dark green colored walls.
You can totally style and decorate your bedroom like this and add more personal touch to it by changing the curtains to your favorite color of white.
8. Best Bedroom Ideas: Warm White Decor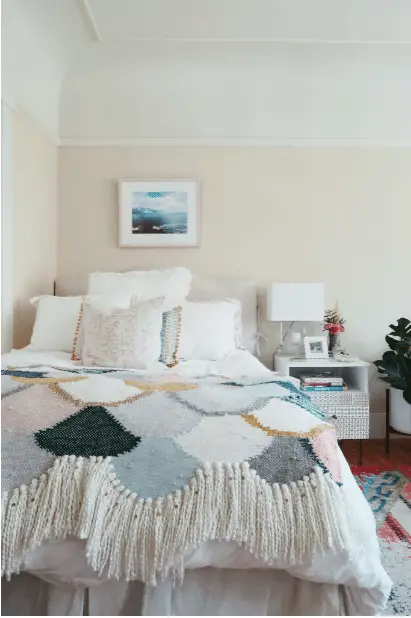 Have your bed placed to one corner of the room and make it super comfy by adding a soft mattress and lots of pillows and cushions.
You can add a blanket like this one to add more colors and texture. Use a little drawer at the bedside to store your things.
A great painting at the back wall is the highlight of this simple bedroom. We suggest you to add a painting that filled will your favorite colors to add more shades to this simplistic bedroom.
We hope you loved these bedroom ideas and found inspiration to decorate your own room.
If you enjoyed this post, then please share it on Pinterest and Facebook and show these bedroom ideas to your friends too.