21 Cute Christmas Sweaters For Women
Are you looking for the best, cute and classy christmas sweaters?
Christmas is just about to arrive and it's time to decide your outfit for the holiday celebration.
Deciding & finding the christmas outfit at the last moment is a realy struggle, so I put together this list of 20+ cute and classy christmas outfits for you to choose from.
( Disclosure: This post may contain affiliate links. We may receive commission if you purchase something from our links, without any extra charges from you. Please read the disclaimer for more information)
1. Red Christmas Sweater Dress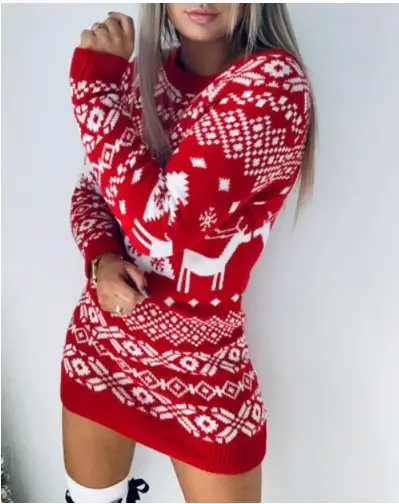 It's such a class dress for christmas that's inspired by reindeers. Definitely a look that's minimal yet so gorgeous that you'll make heads turn.
Pair it with boots or casual sneakers and don't forget your red lipstick to complete this christmas look.
2. Christmas Reindeer Casual Sweater Dress
Another reindeer printed long dress which is both casual and chic. You can wear this for christmas eve or for college christmas party. Pair it with a colorful clutch bag or a purse and top the look with red lipstick!
3. Faith Over Fear Hoodie
Love this hoodie! So comfy and soft that it's perfect for everyday wear. This christmas top is best if you wish to wear something casual yet stylish for this christmas. Wear rugged jeans or fitted jeans and long boots to style this look.
4. Snowman Sweater
This is a stunning attire for women who like to keep it trendy yet casual. This snowman printed sweater will compliment your christmas look for the eve.
Its even perfect for christmas lunch or celebration days before christmas. Add some nice rings to compliment the look.
5. Snowman Sweatshirt
This is a perfect christmas outfit for college girls and teens. Christmas time is fun and you can add the fun to your style with this super cute snowman sweatshirt.
Add a sling bag and rugged jeans to complete the look and get christmas ready!
6. Snowflake Christmas Dress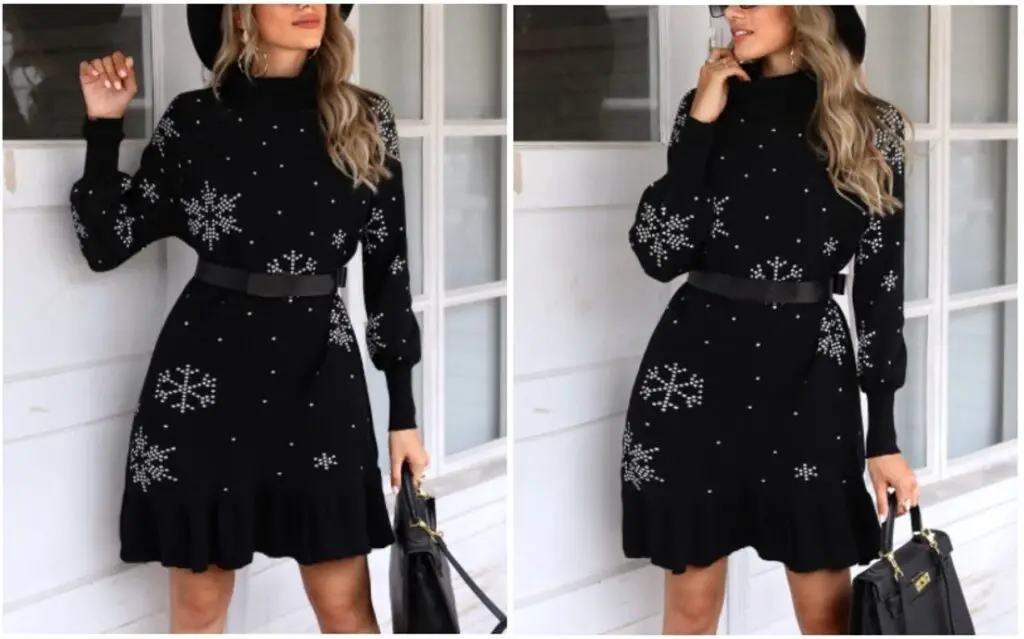 Long dresses are in and wearing them during holidays would add more charm to your style. This black sweater dress is truly a must have winter piece as it's perfect for casual wear as well as christmas.
Add a black purse or a white one to add some shade to the look and top it with a beanie. Cute, chic and trendy!
7. Gorgeous Reindeer Sweater
Christmas is incomplete without reindeers and this sweater totally reminds me of a fun and happy holiday. This cute christmas sweater is perfect for christmas morning or a lunch with your family or guests during the holidays.
Accessorize with beanie, flats and rings to make it chic and gorgeous.
8. Red Plaid Dress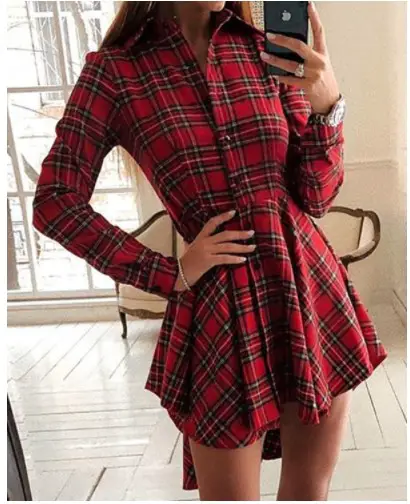 This one never goes out of trend and looks absolutely stunning. Red is the way to go this christmas and what's better than a red plaid dress that compliments you?
Pair it with knee length boots or stilettoes and add a clutch bag for added glamour.
9. Cute Pink Sweater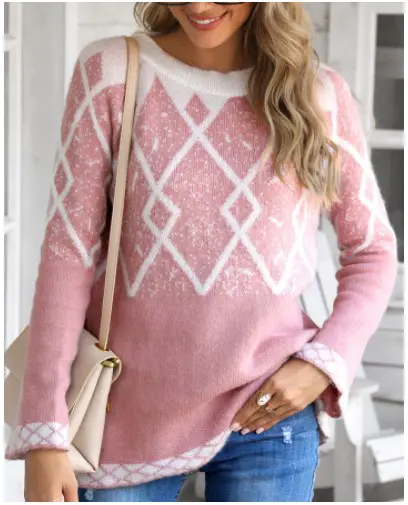 Here's another classy sweater to pull off during holidays. It's super chic, comfy and trendy for this winter. A rugged blue jeans will add more style to this look.
If you wish to go different route instead of the usual christmas colors: red & green, then this blush diamond sweater is definitely a must have for this holiday season.
10. Plaid Gnomes Sweatshirt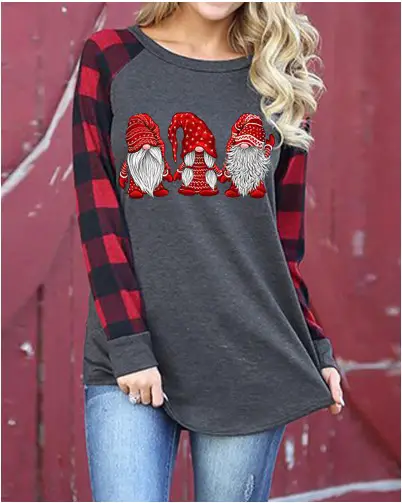 Cute & comfy long sweatshirt with little gnomes in the front and checks on the sleeves. It's ideal for the days to christmas and can be worn to college or gathering with your friends.
11. Chic & Comfy Glass Sweatshirt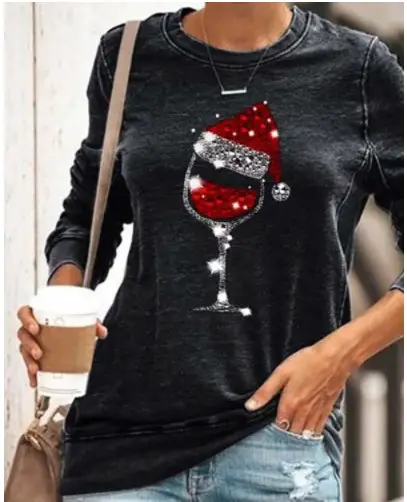 The entire look is enhanced by the little glass in the front with a small christmas cap.
Style this with bracelets and rings and add some color with nice sling bag and dark lipstick. It's a stunning look for lunches and shopping or an outing with your besties.
12. Black Sweater With Golden Reindeer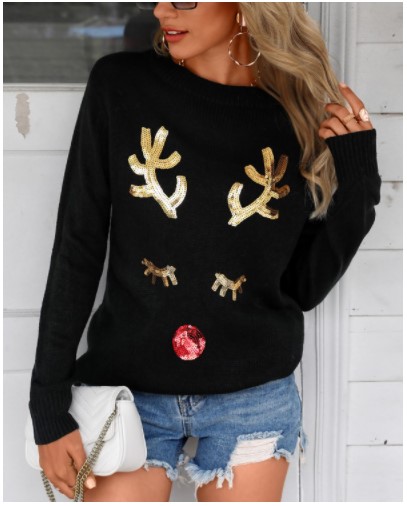 I love this black sweater! It's so chic and comfy and one of my favorites in this list. Black & golden never go out of style and this sweater proves it.
You can pair it with shorts or jeggings and complete the look with flats or sneakers.
Accessorize with sling bags or oversized handbags for that glam and modern look.
13. Christmas Gnomes Sweatshirt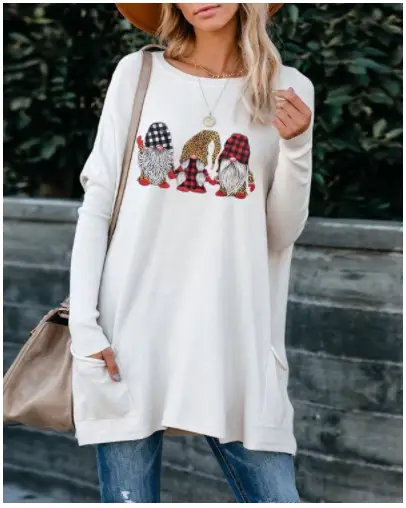 Perfect for christmas lunches and gatherings, this long sweatshirt is a great wardrobe piece. Add some nice neck pieces to complete the look.
14. Black Christmas Sweater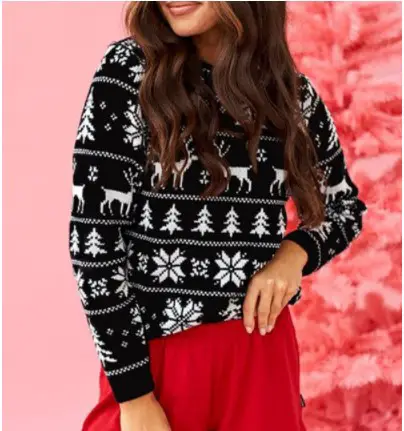 Christmas is incomplete without comfy and cute sweaters so here's one to make it complete for you. I really like the detailed print on this one. The snowflakes, reindeer and christmas tree look super chic and cute.
It's a perfect piece for a sleepover at your besties home or the eve before christmas.
15. Casual Red Top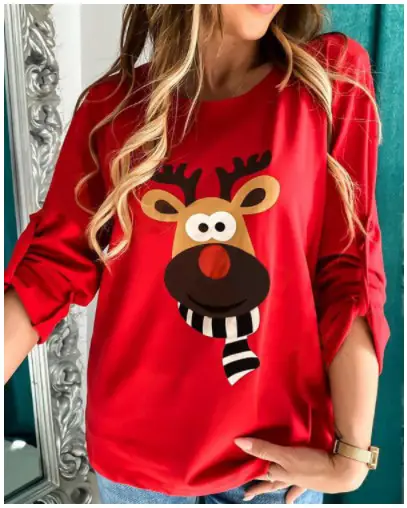 Fitted yet lose, this red top is a very good holiday outfit for college girls and teens. Add your favorite watch and curl those shiny locks to complete this super casual and stylish christmas look.
16. Hearts & Snowflakes Sweater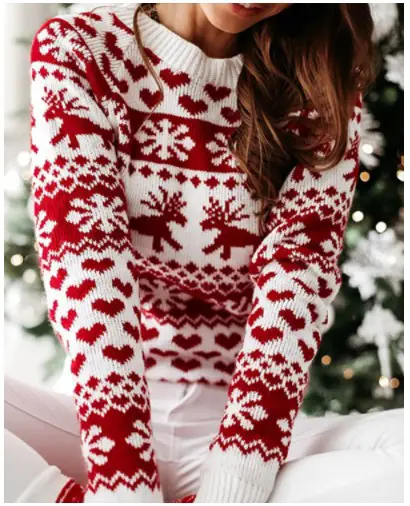 I really like how this one is super stylish yet subtle with the colors. If you are planning to keep it stylish and comfy this holiday season, then here's an amazing sweater for you.
The hearts and flakes add to the christmas feel and the mix of white and red shades make this sweater holiday ready.
17. Black & White Pom Pom Sweater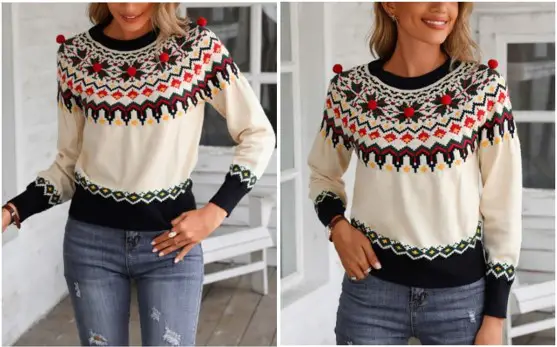 Absolutely gorgeous and chic! This is another favorite of mine from this entire list. The red pom poms on the front look super cute and add thrill to this pretty sweater.
18. Red Christmas Sweater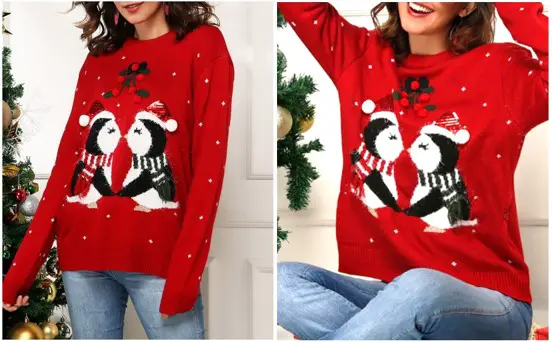 This lovely penguin couple is so adorable! I think this sweater is super cute to wear during days to christmas or for college christmas party. This will surely keep you feeling cozy and chic all the time.
19. Black Cold Shoulder Sweater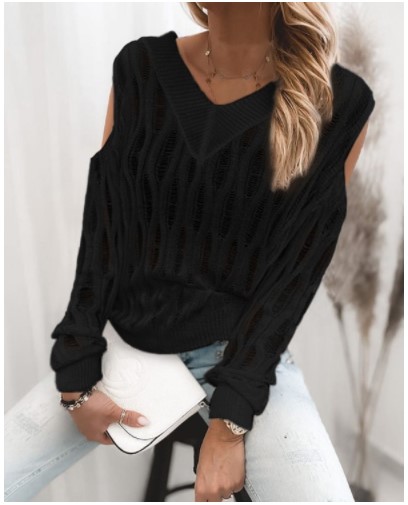 If you want to go for a fancy look, then I would recommend this chic cold shoulder black sweater. Black can never lose it's charm, and it would surely make your christmas a memorable one!
20. Red Sweater With White Reindeer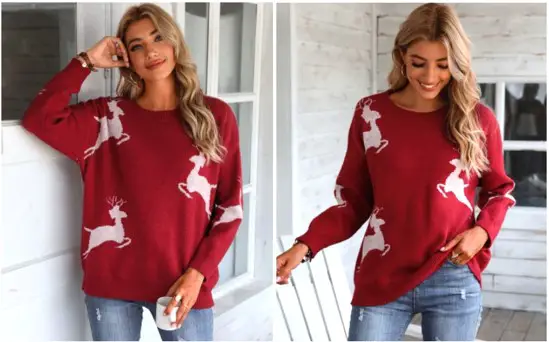 Want a simple and elegant look? Go for this jumping reindeer sweater. It's sure to keep you comfy and your friends would compliment you for this gorgeous sweater.
21. Pink Comfy Sweater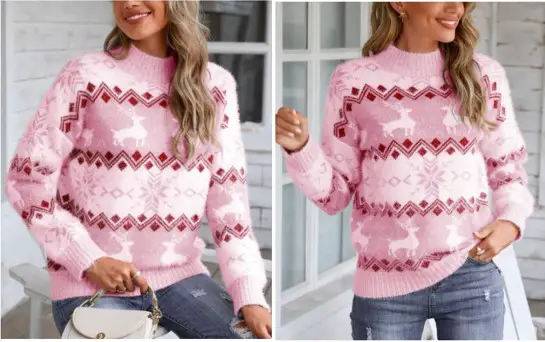 This is a perfect option if you wish to wear something different, something stylish for holidays. This candy colored sweater will make you stand out during christmas time and everyone will compliment you for this stunning look.
The Best Christmas Sweaters & Sweatshirts
This post showed you the best christmas sweaters and women's christmas sweatshirts.
I hope you found the perfect sweater for this christmas!
Please share this post with anyone looking for cute and classy christmas sweaters and sweatshirts.
Save For Later: Outfits and Sweaters Boards on Pinterest!