Making money online working from home? Is it possible? Is it real?
Yes, it's definitely possible to make money online while working from your own home (or any where in the world). 
To make this possible, you need an internet connection, a laptop or a mobile, and you can get started. 
Their are many ways in which you can make money online using your mobile or laptop and this post will show you some of the best ones. 
The great part is you can learn almost all of these skills online and then use them to earn money.
So let's check out the best and legit ways to make money online from home.
( Disclosure: This post may contain affiliate links. We may receive commission if you purchase something from our links, without any extra charges from you. As an Amazon Associate I earn from qualifying purchases. Please read the disclaimer for more information)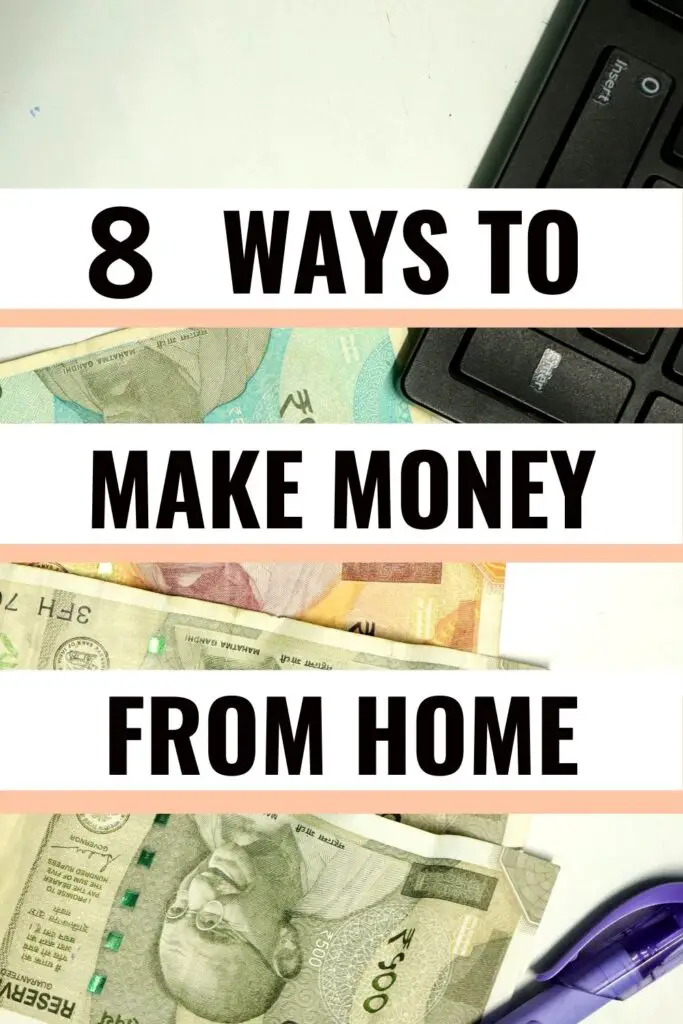 8 Ways To Make Money Online Working From Home
Freelance writing
If you like writing then you can make money with this skill. You don't have to be a novel level writer with extreme creative skills for this.
Their are so many businesses that are going online and making websites and they require writers who can create content for their websites. 
You can apply to freelance websites like Fiver, Upwrok, Freelancer to find clients for this. Or you can pitch to websites owners directly via email or cold calling. 
Beginner freelance writers earn less but once you get some experience you can charge more.
Some freelance writers make $500 to $2000 or even more while only dedicating part time hours to this side hustle. 
Blogging 
Blogging is still one of the best ways to make money online. I can say this from experience. Once you figure out how to monetize a blog, you can make money from it for years to come. 
But please note that blogging is not at all a get rich quick kind of a thing. It takes sheer will, hard work and consistency to make money through blogging. 
If you have a full time job and still want to start making money online, then blogging is the number one way to make money. This is because you decide your work hours, how much time you can dedicate to it with your regular job. 
There is no boss to tell you when and how to do things. The good thing about this side hustle is that almost anyone can start regardless of their age. 
What I love most about blogging is it can become a very lucrative business once you set strong foundations and create a solid blogging strategy that works for you. 
Suggested For You:
Virtual Assistant 
Making money online can be done by becoming a VA or virtual assistant. You will act as an assistant and help the business owner in managing or expanding their business by offering online assistance. This is what a VA does. 
As a VA, you can offer different services like pinterest management, operations manager, managing social media of a business or an individual. You can also offer sales support to their clients or customers. 
Virtual assistants earn a lot of money and this is a great way of making money on the side even if you are a student or an employee. 
VA makes around $10 to $50 dollars per hour for their work. With more experience you can definitely charge higher than this amount. 
Editing Videos 
Video Editors are high on demand ever since youtube became popular.
Most businesses and individuals are launching their youtube channels and they hire video editors for making their videos look more presentable and engaging. 
Editing videos is not that difficult and you can learn this by watching tutorials on youtube or online learning platforms like Udemy. 
You can earn a lot of money for this skill because it's one of the most highly demanded skills in the recent years. Video editors can charge anywhere from $50 to $500 per video or even more. 
Youtube
Talking about videos, you can start your own youtube channel. If you know a skill you can start teaching and talking about that on youtube.
Whether it's stitching, dancing, making cookies or anything else, you can teach these if you have the knowledge. 
What if you do not have a special skill?
You can start a vlogging channel where you capture moments from your everyday life and create a video from that.
Trust me on this, vlogging channels are super popular and many youtubers are making a full time income and even more with their vlogging channels.
So if you like talking and want to share something with others, start your youtube channel. 
Selling Printable 
Making printable and selling them is another way of making money online while working from home. You can make free printables using canva or picmonkey or photoshop.
Next you can sell them on your own blog or website or online marketplaces like Etsy, Redbubble, or Creative Fabrica. 
You can make planners, stickers, binders, recipe cards, coloring pages, worksheets and books for kids. Selling printable is easier than most of the other side hustles. 
You can charge anywhere from $1 to $50 dollars for your printables depending upon how much value you are proving through your printables. 
Social Media Management 
Many business owners and bloggers don't have time to handle their social media accounts. You can offer the online service of social media management to such people.
You will be managing their accounts and also required to create captions, images etc. and post them on their account. 
If you like social media and spend time on it, why not earn money while managing it for someone else. 
Social media management services can be a really good way to make money online as you don't require lots of knowledge or skills for this. 
As a social media manager you can charge $15 to $100 dollars per hour or even per day. 
Your Next Step:
This post showed you the best ways to make money online working from home. You can learn different skills from these and then try 1 or 2 to find which one suits you best. 
In my opinion starting a blog and selling printables is really profitable (when you dedicate yourself to it).
It will take some weeks or months to start earning money from these two. So if you need money faster, then you should try these other ways. 
And  if you don't want to build something from scratch then start working as a video editor, VA or Social media manager as you can get paid almost instantly when you start offering service to clients. 
If you want to start making money online from home, then start researching and learning about these different side hustles using YouTube videos or platforms like Udemy.
You can also look on pinterest for learning about these as their are many bloggers who have blogs that are dedicated to teaching you these skills.
I hope you found this post helpful.
Please share on Pinterest and Facebook with your friends and help them in knowing how they can make extra money online working from home. 
Want to Save $1000 Fast? Follow This Free Guide: