Halloween is just arriving, and it's the right time to start your preparations to avoid last minute hassle. If you are looking for scary halloween decorations diy, you are going to love it here!
I am sharing super unique, spooky and scary halloween decoration ideas for indoor and outdoor decor.
You can use one or combine multiple ideas to decorate for the halloween party. You can even use these diy halloween decor ideas for dorm room, small apartment or even garden.
This can be used for decorating any place and make it appear spooky, haunted and scary.
You can also check this amazing post where I have shared 11 Cute College Halloween Costumes For Girls For 2021
Let's go ahead and see some of the most scary halloween decorations diy.
Check This Awesome Halloween Activity Bundle To Have Fun This Halloween!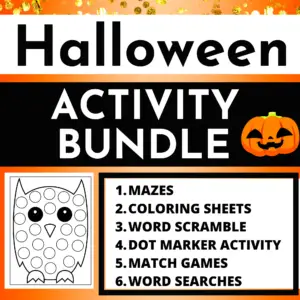 DIY HALLOWEEN DECORATION IDEAS: Scary Halloween Decorations DIY
1. Plastic Pumpkin Arch Way Entry from craftmorning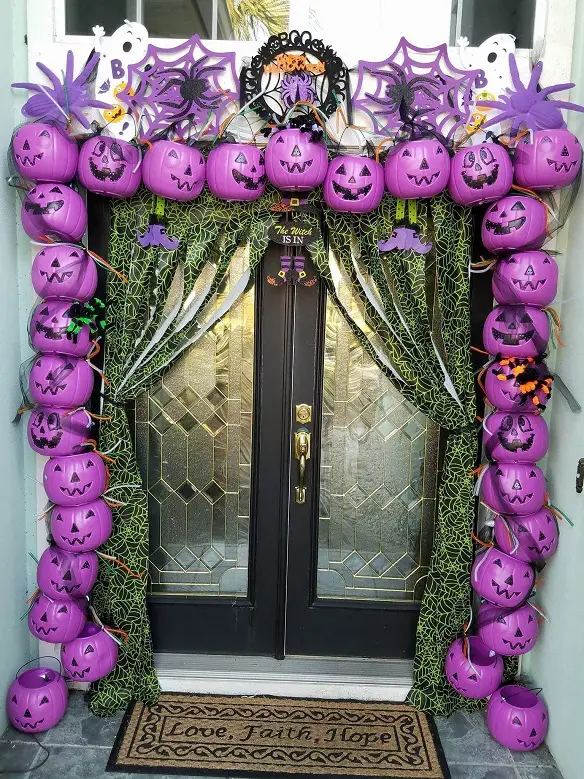 Spooky, scary & pretty: this halloween decor idea is perfect for you if you are planning to for a halloween party.
The purple pumpkins looks super cool and add to the aura of this amazing holiday. This is a perfect idea for halloween front yard decoration.

You can even light it up using led lights and fairy lights to make it look scarier during the night. You can check out the details to make this decor right here.
2. Diy Dementor

Something really spooky and different from other ideas, this diy halloween decor idea is perfect if you want to try something new.
If you are a harry potter fan then, this scary halloween decorations diy is must try this year!
It is easy to make and your guests and kids will surely like it and praise your efforts.
Make these creepiest looking dementors this year for halloween.
Find the guide for this diy project here at cute diy project.
3. Illuminated Ghost Garland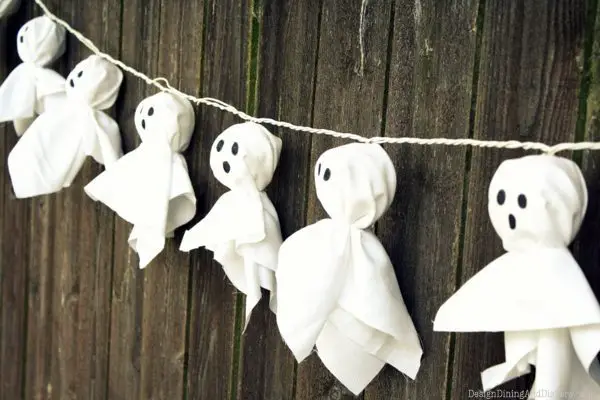 Awesome diy project which can be done with the little ones too. This halloween decor idea is perfect if you want to enjoy a good time with your kids and involve them in making some diy decor items.

You'll need minimum things and materials to make these and your kids would love making them too.
Even college girls can make these for decorating their dorm and making it scary for the halloween.

Find details for this project here at tarnywhiteaker
4. Masking Tape Hand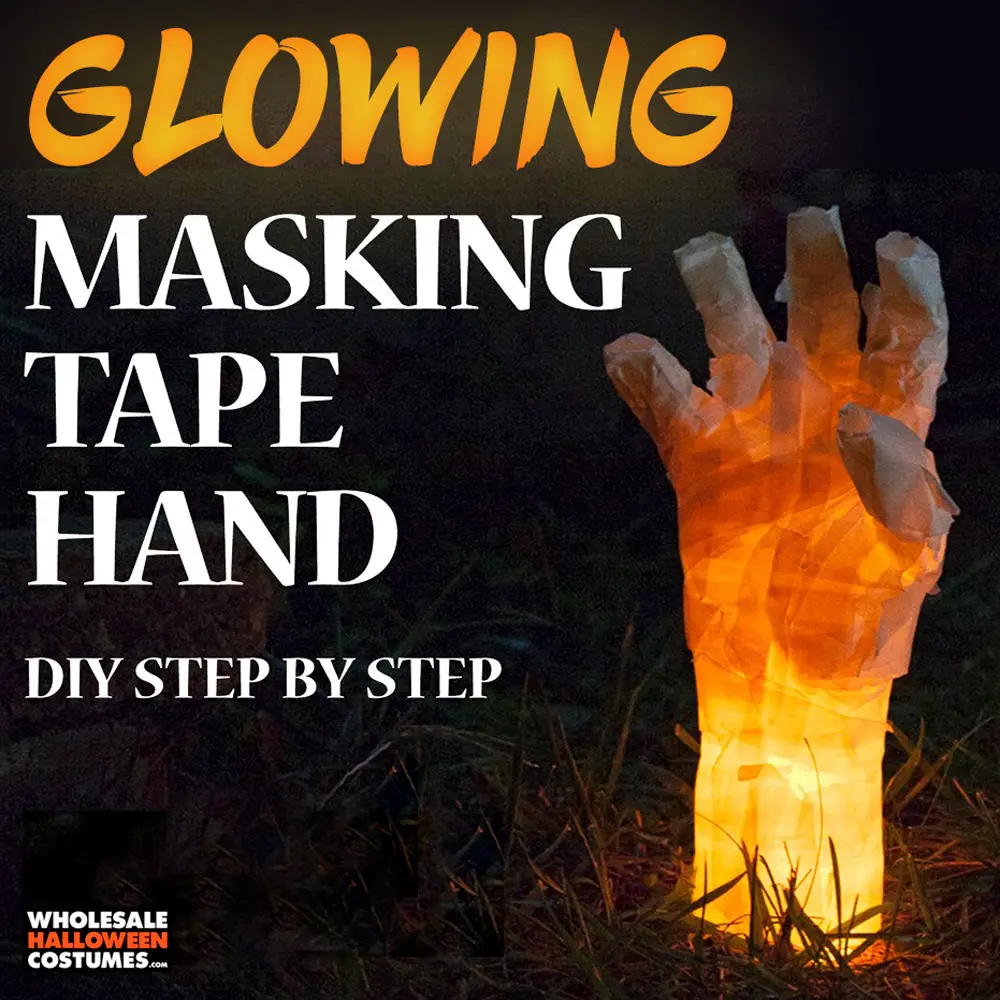 Super spooky and mysterious, this hand is surely going to give chills to your guests and friends.
You can leave it in your garden for a more spooky effect at night.
This halloween decor idea is perfect even if you have less materials and space and still want to decorate for adding some fun to your halloween party.
Find the full project guide here
Scary Halloween Decoration Ideas
5. Outdoor Ghosts Holding Hands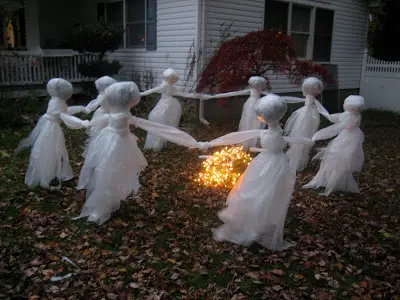 I would have to admit that this one is extremely spooky. Just imagine someone crossing across your home, and finding these ghosts holding hands, scary isnt it?
Watch out for these super scary ghosts holding hands which will take your halloween mood to another level.
This one is a perfect diy halloween decorations for outside.
Find the guide here at pinkpixieforest
6. Bubbling Witches Cauldron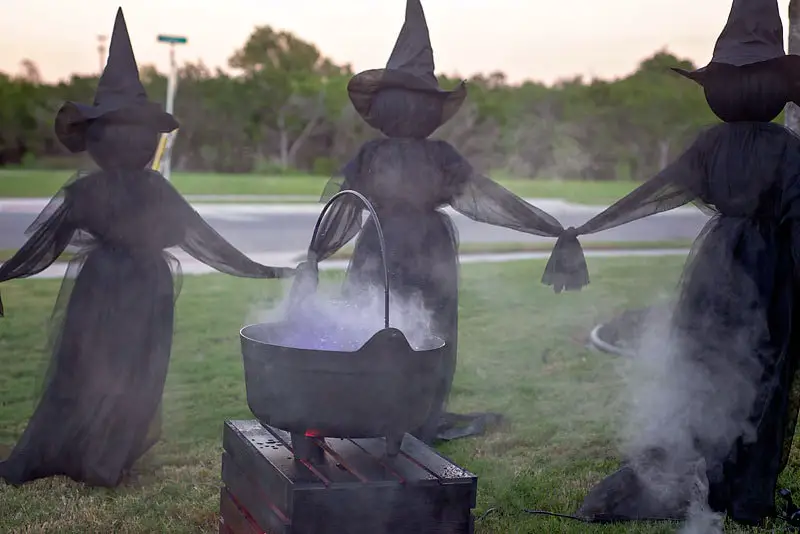 Super mysterious & scary, this outdoor decor idea for halloween is ideal for those who want to give a dark, shadowy look to their decor.

You can see how to make this decor here at scatteredthoughtsofcraftymom
7. Hanging Ghosts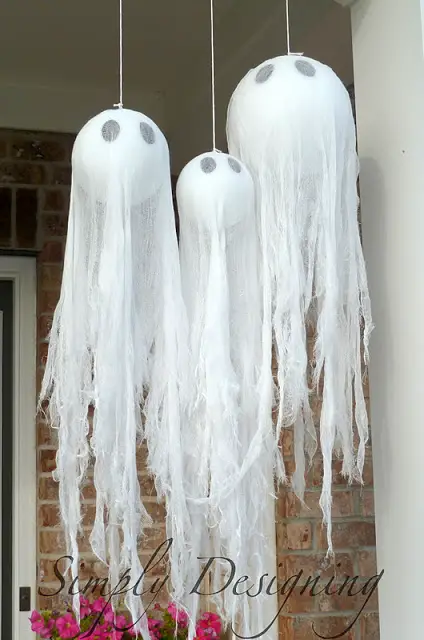 Hang them in your room or the garden; these cute little ghosts will light up your mood.
Such an amazing idea for halloween front yard decorations.
They will look scary yet cute and that is what makes them perfect to make with your kids.
You can read about this halloween decor idea here at simplydesigning.porch.com
8. Diy Spider Wreath
This giant spider will look cute on your front door or even inside the house. Its perfect craft activity for kids that you can try around halloween.
Just gather the items and start making this super fun and scary giant spider wreath with your kids at home.
Find the full guide to make this decor item here.
9. Ghost Made from Gourds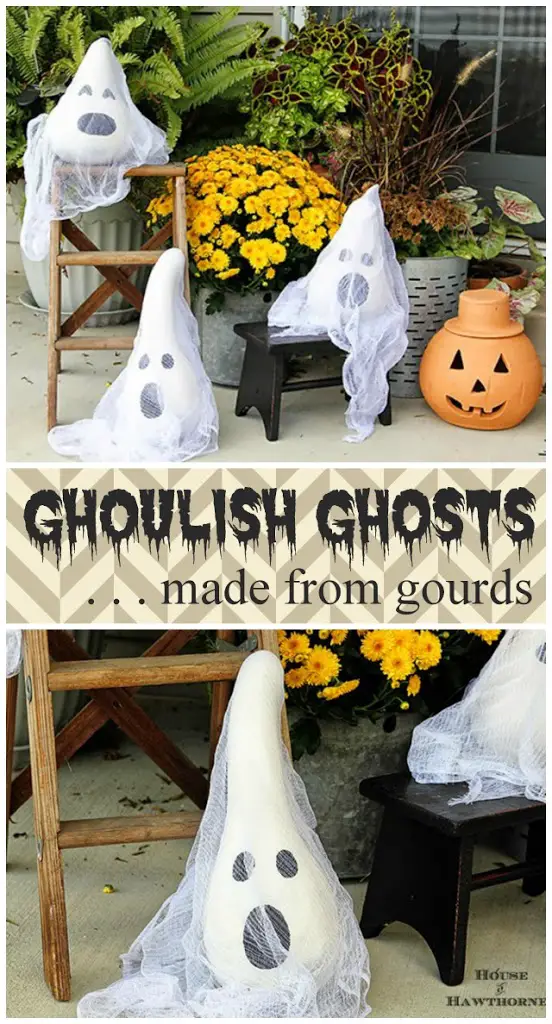 If you want something that is nice yet not so scary, then these ghosts from gourds are going to be the best.
You can also turn this into a nice craft activity to enjoy with your kids and have a good halloween celebration.
Make this quickly using the steps show in the guide at houseofhawthornes
10. Diy Spirit Jugs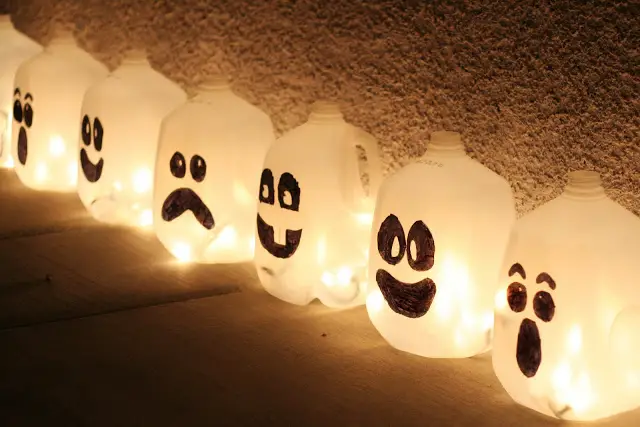 Days or even weeks before halloween, start saving the milk jugs as this year you can put them to great use.
These spirit jugs are good decor choice to have a nice halloween mood and effect in your backyard or garden.

Fill them with chsitmas lights for an illuminating look at night. Its a perfect decor idea + halloween craft which you can do at home with your kids too.

Find the details to make them here at eighteen25
11. Diy giant yard spider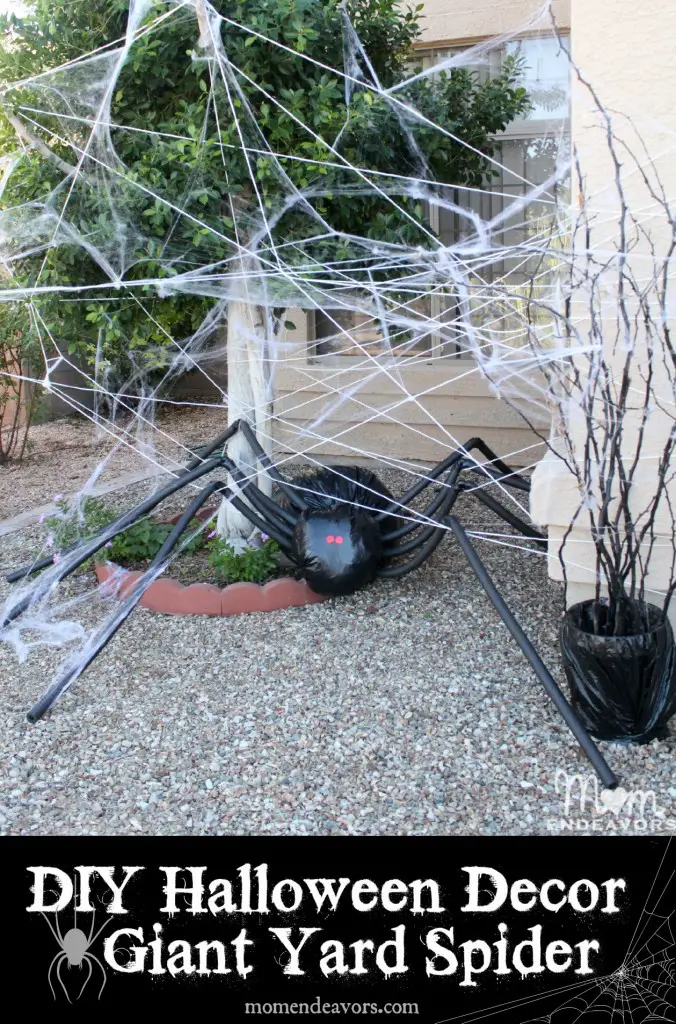 Welcome a spooky giant spider in your house this halloween.
Such an amazing and scary halloween decoration idea to try this year.You can make it with your kids and have a fun halloween activity at your home.
This one is a perfect lawn decor idea for halloween and it'll add up to the spooky aura.
You can find the steps to make this project here at momendeavors
Scary Halloween Decorations DIY
12. Climbing Halloween Skeletons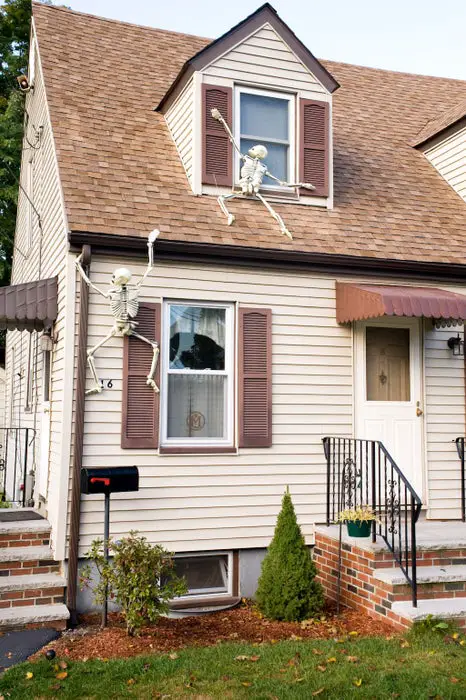 Try this awesome and unique halloween decor idea to decorate your walls. It is surely creepy and scary especially when you'll see them at night.
This scary halloween decorations diy is a must try for 2021.

Check the details to make this decor project at instructables
13. Floating Witch Hats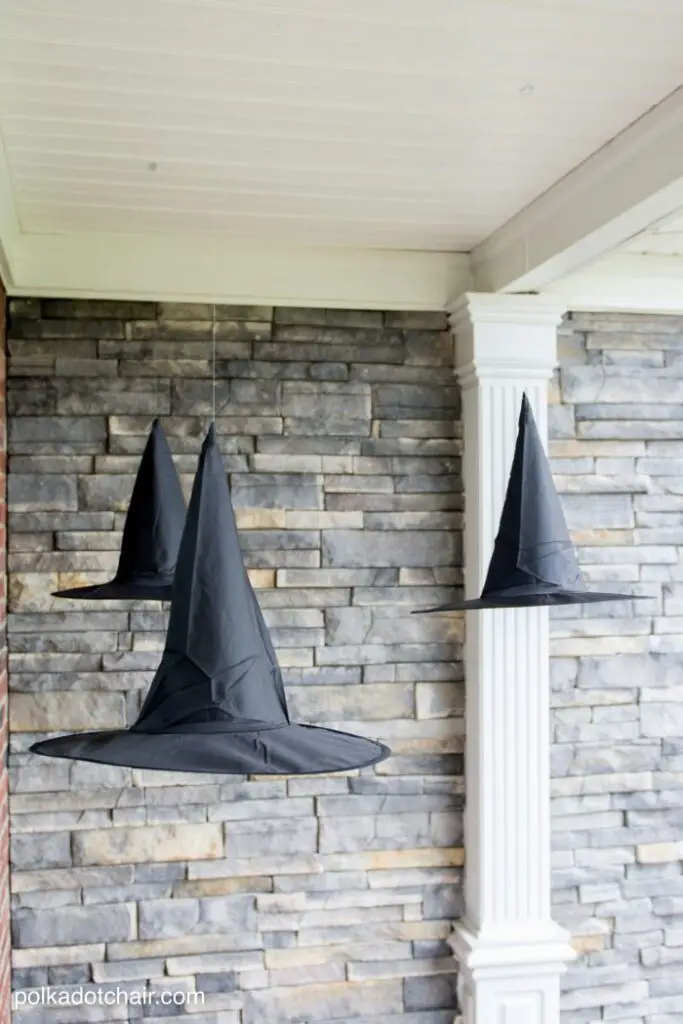 If you are looking for porch decorating ideas for halloween, then check this decor idea. Hanging hats are perfect for outdoor decor as well as indoor.
It all depends on what kind of decor you want to have for halloween.
These hats will surely grab the attention of everyone who attending your halloween party.
You can grab the items easily and start making these spooky witch hats.
Read full details at polkadotchair
14. Diy Glow Box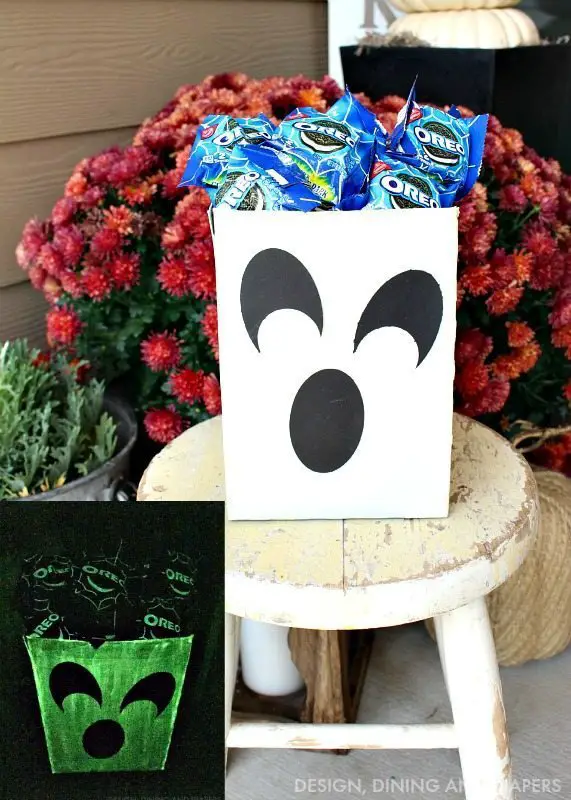 This is a not too spooky but cute decor idea for halloween party. You will need very few items to make this super easy halloween diy craft.

You can use them in two ways: for decorating and for gifting. You can create many of these and gift them to your guests and kids.

Just make sure to fill them up with some nice chocolates, candies or little toys or erasers.
Check full instructions to make these diy glow boxes here
15. Mummified Front Door For Scary Halloween Decorations DIY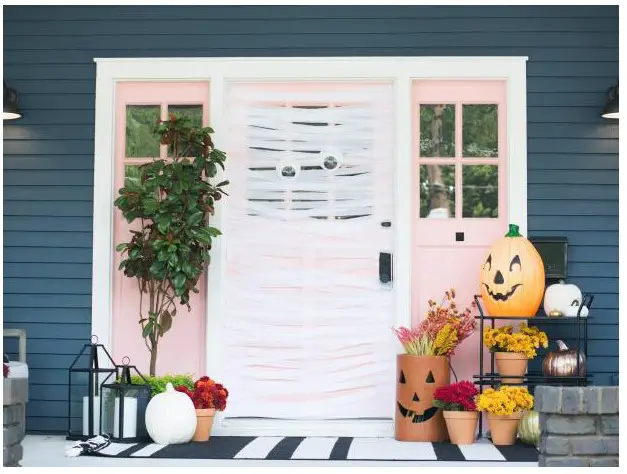 Give a nice spooky effect to your front door by using this scary outdoor halloween decoration ideas to mummify your door.
It will look mysterious and confuse your guests as to how they will enter the home.
You can even set a password that they need to tell before they are given entry.
It will be so much fun!

Read details about this scary halloween decorations diy idea here.
16. Raven Inspired Halloween Porch
Give a dark, scary look to your garden or porch with this raven inspired look.
It is surely different from other diy halloween decor ideas as it is not that creepy but still brings a sense of darkness.

If you want to have a subtle and not so scary halloween decoration for your kids, then this raven inspired decor is perfect to go with.
Find how to do this project here createcraftlove
17. Wicked Witch Legs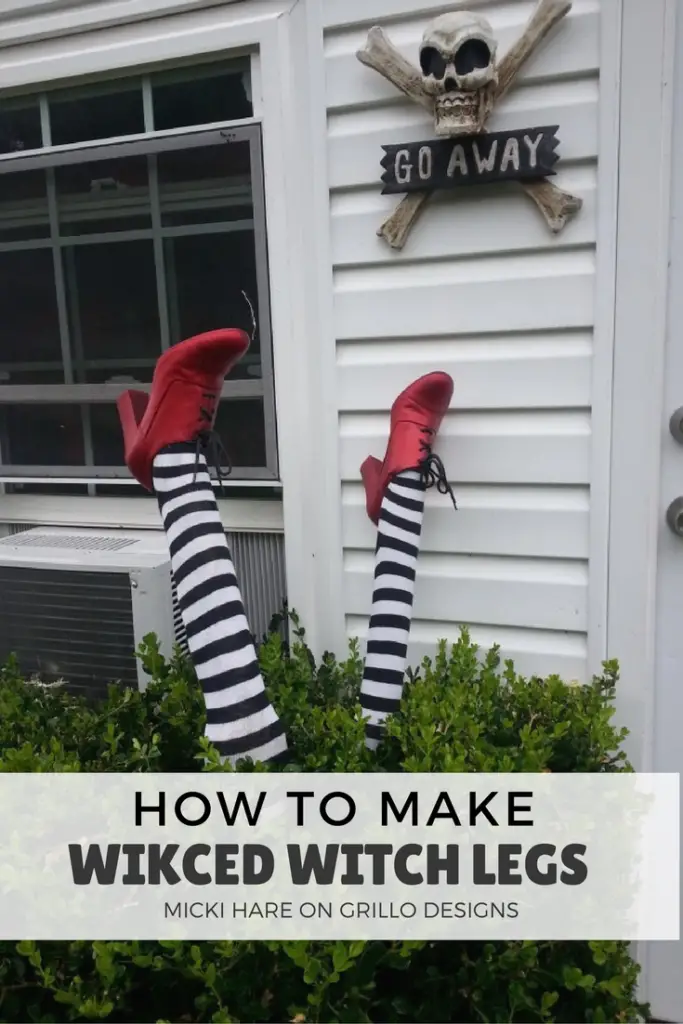 Very unique and scary, this diy decor idea for halloween is a must try this year. You can even make many of these and decorate your garden by giving it a super scary look.

Some would call it scary others may think its cute, but no matter what, its a very unique diy halloween decor idea.
Check the details on how you can make it at grillodesigns
18. Spooky Eyes
Reminds of scary horror movies and cartoons, right?
This diy halloween decoration is super easy and requires minimum efforts.
You can even ask your kids to assist you in making it.
Create them in different colors if you want more hue and creativity. Hide them in bushes or inside your house and scare people this halloween!

Read instructions to make this project at diynetwork
19. Diy Lolly Pop Ghost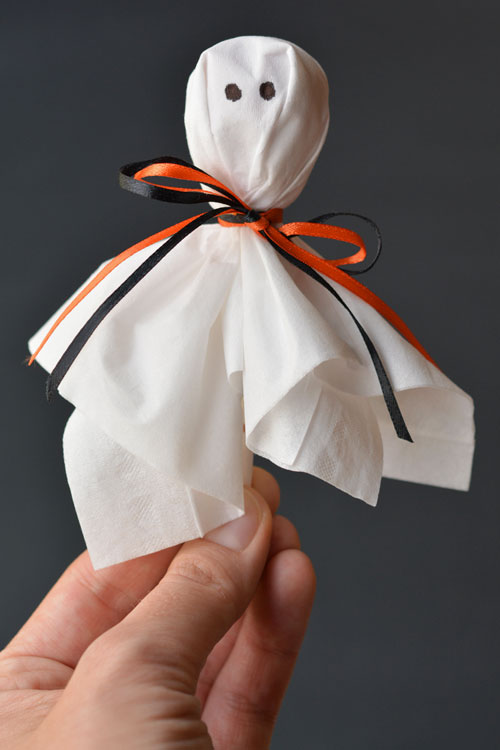 Try this super cute halloween decor by using simple material. It is going to be a fun halloween activity that you can enjoy with your kids or friends.

Gather the list of items and start making these cutie lolly pop ghosts for your halloween party. They are not just a nice decor item, but you can present them as treats or candies to your guests.

Read full details to make this diy decor treat from onelittleproject
20. Glowing Pumpkins: Scary Halloween Decorations DIY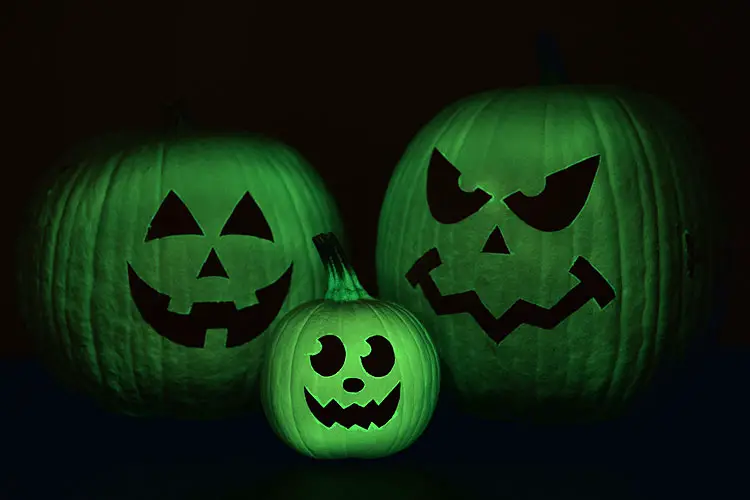 Its the all-time classic halloween decoration idea thatll never fade.
Halloween is not complete if you do not have some creepy pumpkins smiling in the darkness.
You can find steps to make them at onelittleproject
21. Diy Haunted Lanterns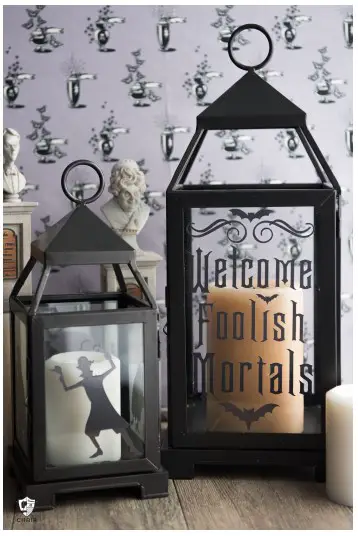 Hang these lanterns in your porch or backyard to welcome guests to your halloween party.
These are even great for college students as you can make them easily and decorate your rooms and dorms to get a halloween festive mood.

Find details about it at polkadotchair
Scary Halloween Decorations DIY:
I hope you enjoyed these awesome outdoor and indoor halloween decor ideas and I hope you'll try them this halloween!
Make sure to tag us on instagram if you try them, we would love to see. You can connect with us on instagram here: @skyeinside
Other Halloween Related Posts For You:
11 Cute College Halloween Costumes For 2021
21 Spooky Halloween Nail Arts for 2021 That You'll Want to Copy
8 Fairy Halloween Costume Ideas For College That You'll Love
15 Hottest College Halloween Costumes You'll Want To Steal for 2021