This post is all about Group Halloween Costumes For College that are perfect for last minute costume ideas for Halloween.
I have collected the best group college halloween costume ideas which you can recreate this halloween.
You don't need to spend much for getting dressed for halloween. In this post, I am sharing 23 Group Halloween Costumes College so you can choose the easiest ones to wear with your girls!
( Disclosure: This post may contain affiliate links. We may receive commission if you purchase something from our links, without any extra charges from you. As an Amazon Associate I earn from qualifying purchases. Please read the disclaimer for more information)
Want More College Halloween Costume Ideas?
8 Fairy Halloween Costume Ideas For College That You'll Love
11 Cute College Halloween Costumes For Girls
15 Hottest College Halloween Costumes You'll Want To Steal
23 College Group Halloween Costumes: College Halloween Costumes 2022 For Girls
Check out these college girl halloween costumes which you can wear even with your girl gang.
1. Three Witches by Morgan Hoff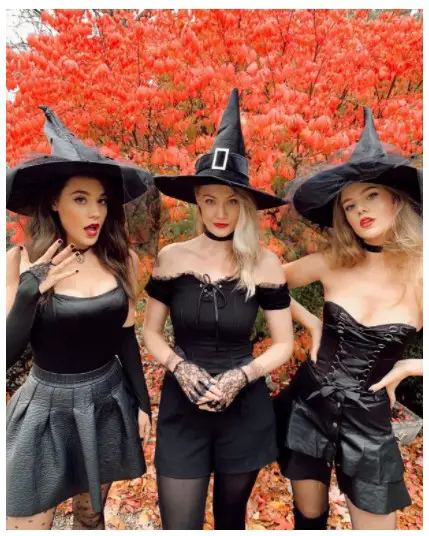 Love this costume and the idea! How can we forget witch costumes for halloween?!
You can even carry miniature brooms for the vibe. It's a perfect group halloween costumes for 3.
Recreate this costume:
2. Space Cowgirls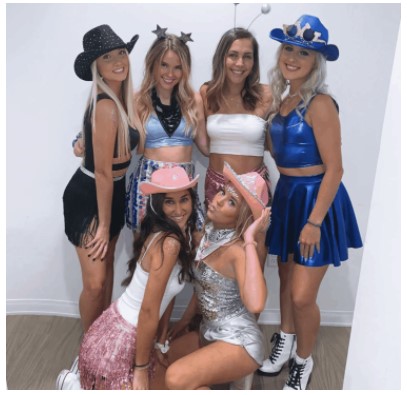 I Absolutely love this one! It's all sparkle and glittery. You can never go wrong with these glittery outfits for Halloween. Plus, every girl could pick her favorite color outfit.
Recreate This Costume:
3. Mummies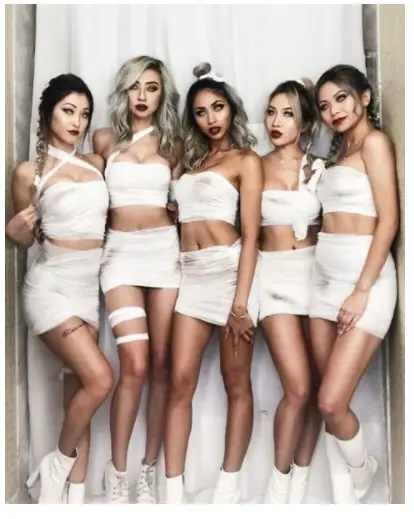 This could be counted among the hottest college halloween costumes for 2022. You don't need to spend much to achieve this look.
4. Deer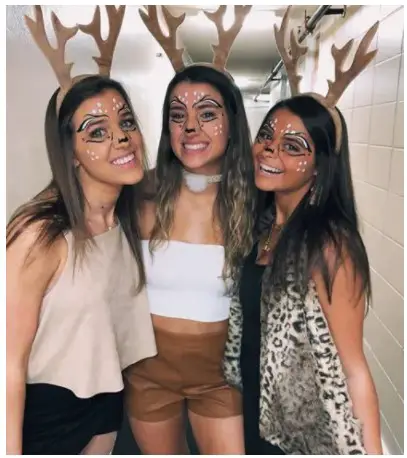 Such a cute idea, isn't it?
Getting dressed as deer with your bunch of friends sounds fun!
Make sure to add the cute deer headbands and the makeup.
Recreate This Costume:
5. Modern Powerpuff Girls: Group halloween costumes for 3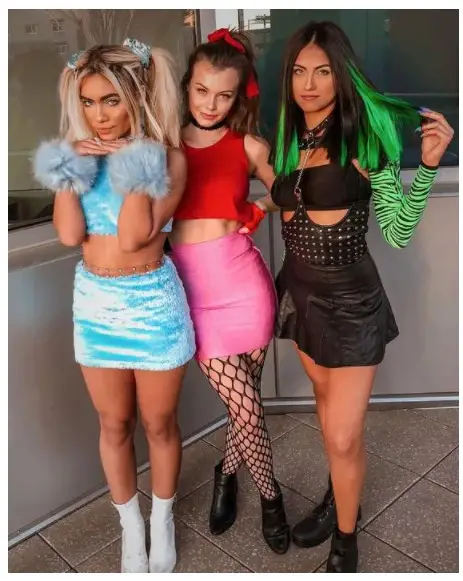 Are you a powerpuff girl fan like me?
Totally loved this superhero cartoon as a kid!
If you have a group of 3, I think this is the best outfit idea to try. Try this Look:
6. The Greek Goddesses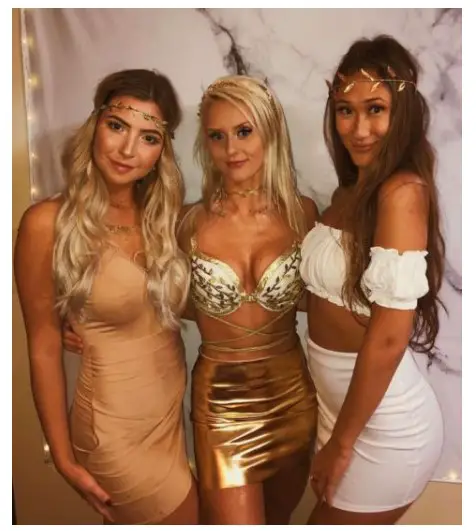 Looking to turn everyone's head during the halloween party?
Then, this greek goddess look is all you need!
This is my most favorite costume ideas out of this entire list. It's so creative and super chich!
Get creative and wear this with your group for halloween 2022, and you'll surely be the attention seeking gang in the party!
Get This Look:
7. Cops
This is super chic, classy and a complete vibe for halloween parties.
It's different from the regular outfits you see on halloween and the best part is, it's easy to create for the last-minute.
Recreate This Look:
8. Poker Girls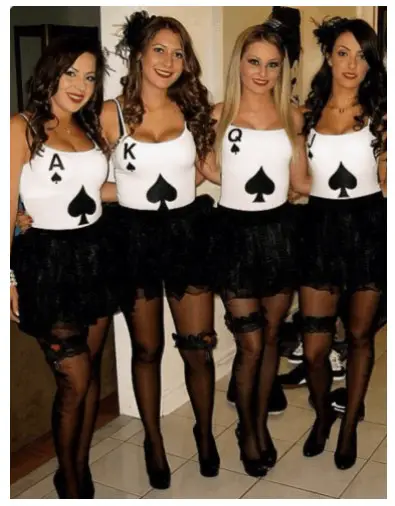 Super chic and sizzling!
I really like this fun and unique halloween costume idea for groups. It'll make your group stand out in the crowd.
Style This Look:
9. Harry Potter: Hogwarts Houses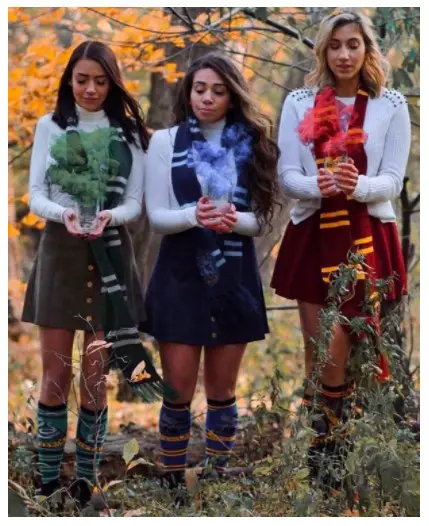 Harry potter fans?!
Try this gorgeous outfit idea of Hogwarts houses.
Even if you are just going with your bestie, you both can pick your favorite house and get dressed like that.
Create Your Outfit:
Socks & scarf:
10. Mean Girls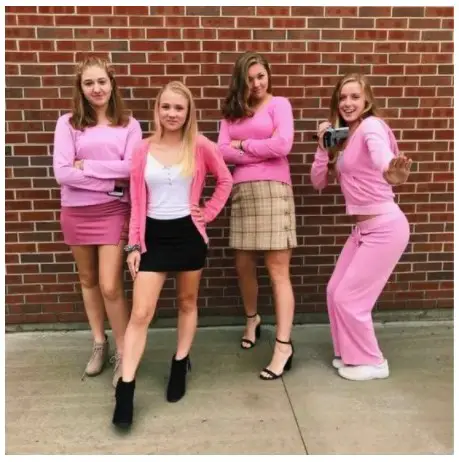 How can we forget mean girls from this list?
If you have a group of 4, then nothing could beat mean girls costume.
Copy the outfit:
11. The Rock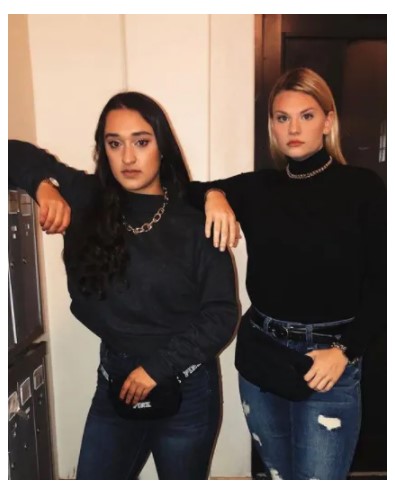 Simple, affordable yet classy.
This outfit is a totally good option if your group is not willing to put too much efforts into getting ready.
Recreate This Look:
12. Risky Business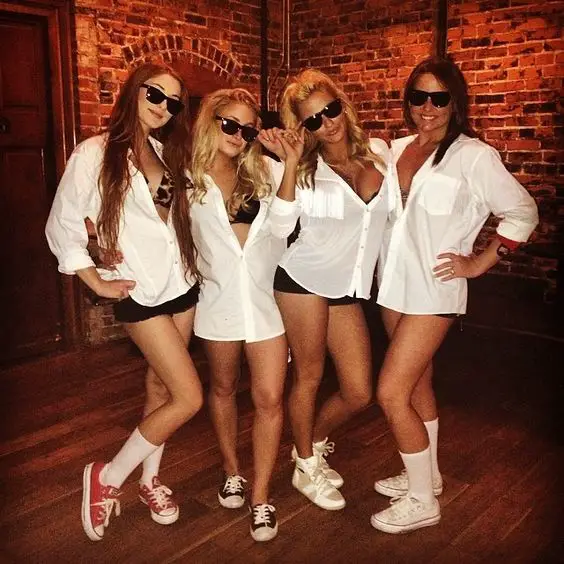 This one is surely classy, unique and inspired from the Tom Cruise Movie.
Great last-minute group Halloween costume idea for the college party.
Get The Look:
13. The Disney Princess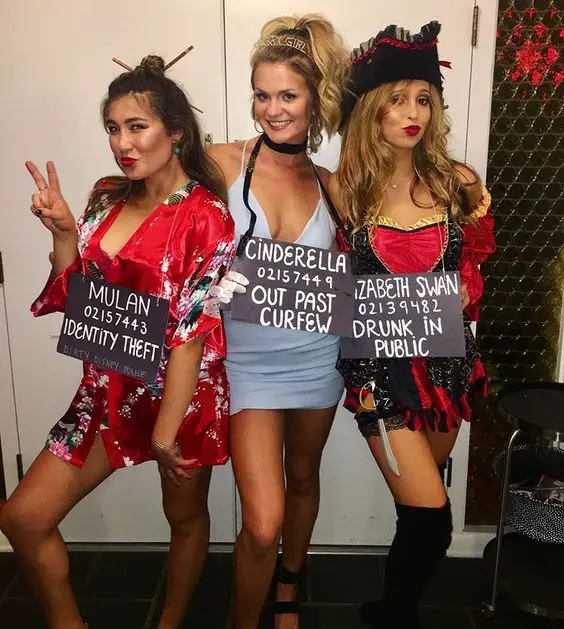 Pick your favorite princess and try this costume idea!
Great for theme halloween parties and college group halloween costumes
14. Black Cats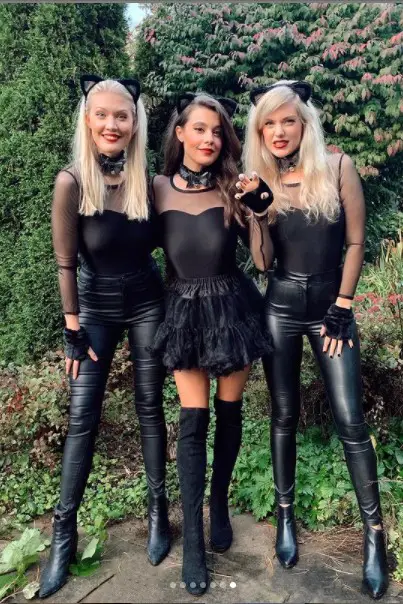 Imagine walking your your girls in this costume, and turning heads in the party!
It's really chic, mysterious and classy outfit idea for college.
Get The Look:
15. Skiiers by JourneyStaggs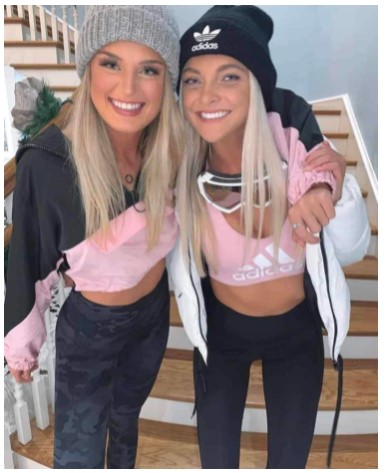 Want to wear something cozy, comfy and warm this halloween?
Go with the Skiiers look!
Don't forget to add the beanie, as it's making the outfit super chic.
Get the Look:
16. Wizard of Oz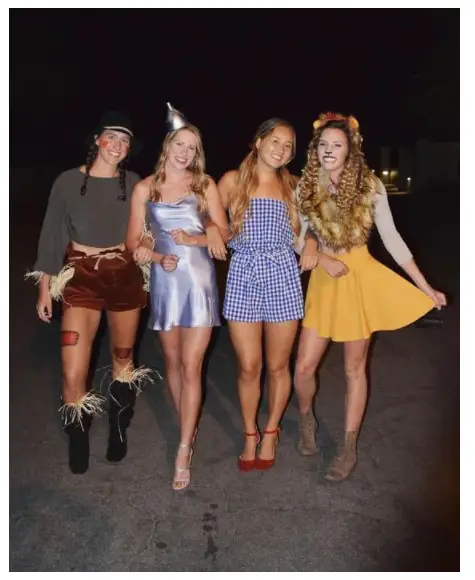 Classic outfit idea that never gets old.
Go with this outfit if you have a character theme party.
Create this look:
17. White Claws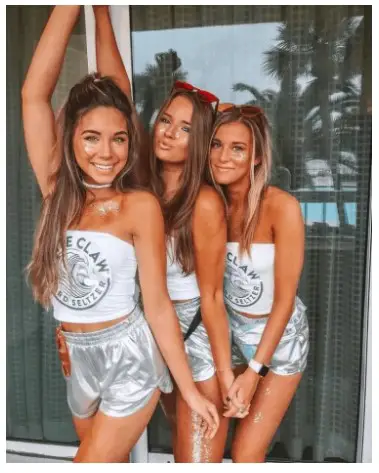 White claws is really loved by everyone in college years.
Use this outfit idea, as it never goes out of fashion!
Recreate This Costume:
18. Dazed and Confused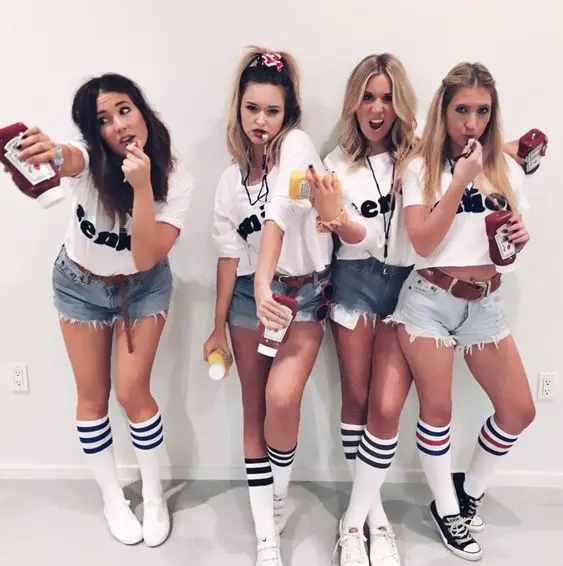 Want a chic and classy white costume for halloween?
Go with this "dazed and confused" look.
Recreate This Costume:
19. Totally Spies by Jess Cheng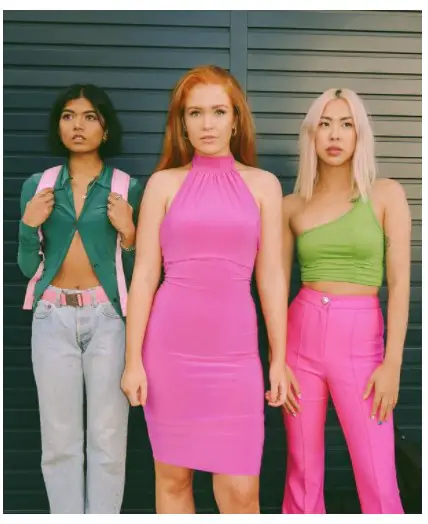 This is so modern and classy.
I think this idea is great for a group of 3 girls as it's so easy to recreate.
Get this look:
20. Ski Bunnies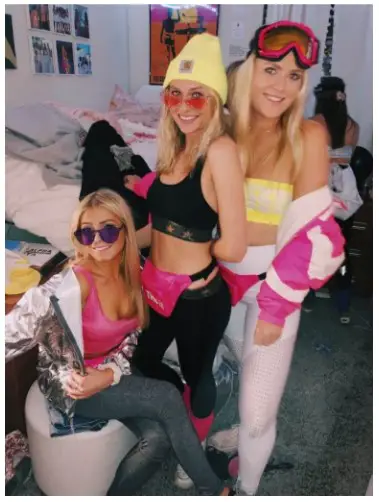 Super cute, chic and happy outfit.
This is giving more spring vibes to me, but it can be a great look to try something new and unique.
Get the costume:
Accessories:
21. The Caveman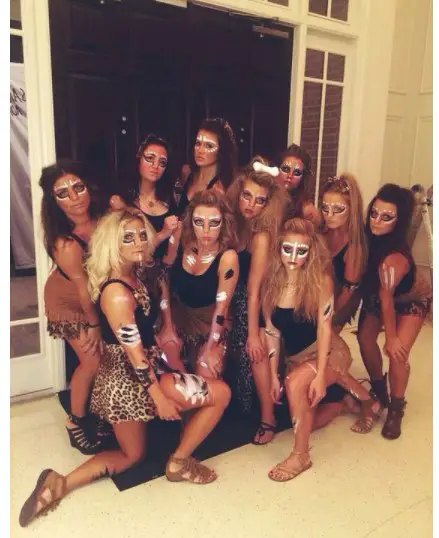 Tribal vibes! Loving this simple yet unique idea for this fall.
Go crazy with the makeup and body paint and have fun creating this Halloween costume with your group.
Recreate this costume:
22. Hydro flask Bottles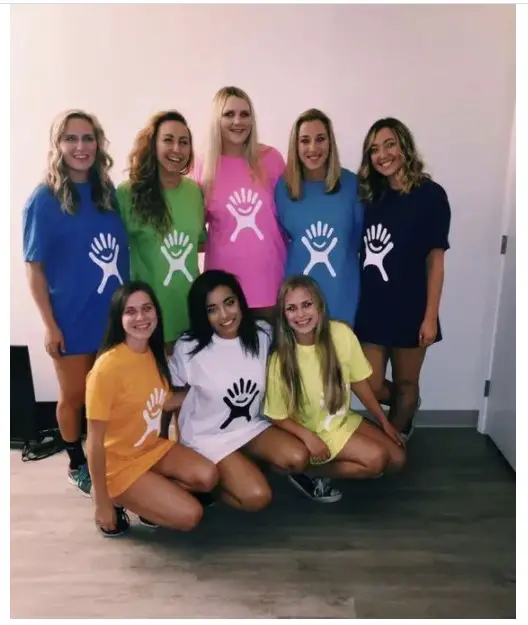 Want a nerdy look for halloween? Go with this one!
It's colorful, easy and super affordable group halloween costume idea for college.
Get the costume:
23. Gumball Machine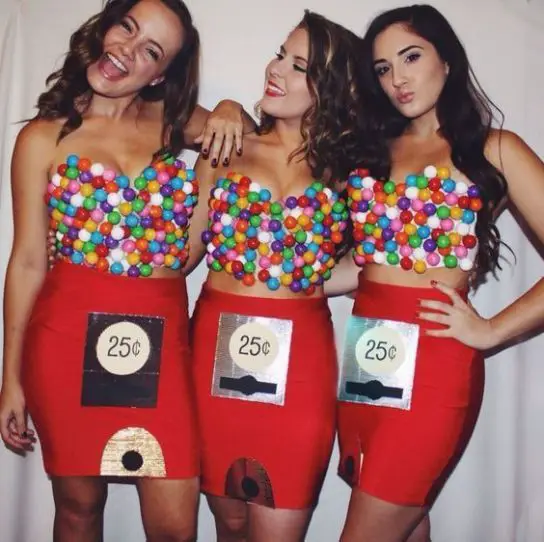 Such a cute and adorable college halloween costume for 2022!
Show your creativity and sizzle in this gumball machine outfit. All you need is red pencil skirts, tube tops and lots of mini gumballs to stick!
Recreate this look:
Want More Halloween Ideas?
 21 Scary Halloween Decorations DIY For College Dorm & Outdoor Decor
11 Cute College Halloween Costumes For Girls
8 Fairy Halloween Costume Ideas For College That You'll Love
15 Hottest College Halloween Costumes You'll Want To Steal
23 Cute College Group Halloween Costumes